Jurgen Klopp is, arguably one of the most successful managers in the history of Liverpool fc. He has overseen a clear golden era in liverpool's history
Klopp arrived Liverpool from a BVB Dortmund exit in 2015 and in a time span of 8years and near 700 million Euros spent on acquisition of 51 new players, he has won 8 titles for Liverpool.
Titles won By Klopp at Liverpool
UEFA Champions League (2018/19) …
UEFA Super Cup (2019) …
FIFA Club World Cup (2019) …
Premier League (2019/20) …
Carabao Cup (2021/22) …
FA Cup (2021/22) …
Community Shield (2022)
Jurgen Klopp practices a very physical demanding football philosophy that seeks to wear out the opposition and apply pressing when not in possession.
From a technical point of view, this playing philosophy requires extremely physically fit players, aggressive and hungry offensive players with very physical and not necessarily technically first-class midfielders.
This playing philosophy when successfully executed, puts so much pressure on the opposition and offers so much room for Liverpool fullbacks to join incessantly in offensive play, mask defensive lacunes when present and force the opposition to feel hurried and simply put, bullied to defeat.
These "11 Anfield Warriors" below, as I nicknamed them back then, epitomised the above philosophy: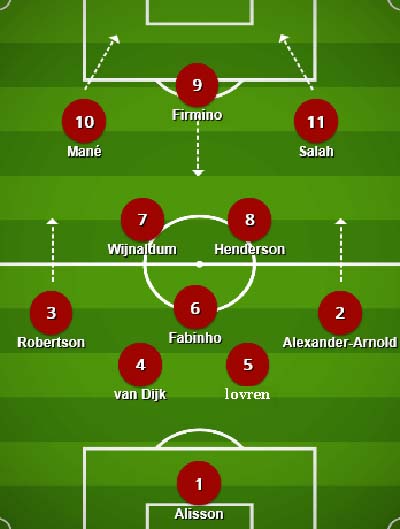 Fast forward to today, Liverpool still boasts of 9 of the 11 "Anfield warriors", is 8th on the premier league table, a whopping 30 points behind league leaders Arsenal with 2 games less, and struggle to even beat relegation threatened teams at their own backyard, Anfield stadium.
Dejan Lovren and Sadio Mane have since left the flock with Mane notably heading off to German Giants for in my opinion, a "relatively paltry" 41 million Euros.
I say paltry when we take into consideration that, Sadio Mané finished second in the 2022 Ballon d'Or, only ranking behind unstoppable Karim Benzema and some average unconfirmed players in my opinion,these days are bought for near a 100 million Euros.
The 31 -year-old Mané, became the second African player to reach the podium of the prestigious trophy since George Weah's triumph in 1995.
How could Liverpool ever let such a near irreplaceable player in its philosophy leave?
Sadio Mane caught my full attention and fancy, when he burst onto the scene first at Redbull Salzburg and then on, more prominently at Southampton.
Mané was instrumental in every aspect of Liverpool's success since day one in 2015; his aggressive and explosive attacking, counter attacking, with or without the ball, unpredictability, variable playing style, goals, assists and most importantly to Klopp's Liverpool playing module, his non-stop "hand lending" to the full backs in his doubling up defensively, immensely helped Robertson and Trent Arnold perform at their best.
Ever since Mané's departure, Liverpool has struggled on all departments and I am totally convinced, if this 2022 World's best player Runner Up had still been at Liverpool and healthy, Liverpool would be singing a different song now.
Of course, there are obviously other reasons why Klopp's team is struggling. Could it be that he has overstayed his welcome? Are the players tired of his "voice" as we say in Football? Are the "old" guard unhappy at Klopp's attempt to replace them with the new incoming younger breed? Has van Dijk's injuries affected the team's consistency or has Klopp's Philosophy simply hit a brick wall and needs an overhaul or tweaks to include some more technical play? I leave you to decide.
In my opinion, losing Mané the way Liverpool did, has cost them dearly and might just cost Klopp his Reign at Liverpool.